BotHelp platform allows users to link their own domain with the landing page created on the platform. Before we proceed, let us remind you what 'domain' means.
A domain or domain name is the location of a website when referring to an Internet address or name. You can add your own domain for your mini-landing page on our platform to be displayed.
Read how to create a mini-landing page in the article Mini-landing page
After you create a landing page, you will receive a link. By default, the link has the mnlp domain, but you can add your own domain for thl display of the mini-landing page.
Both links to the landing page will work after adding your domain.

Using your own domain
To use your own domain, you need to change the DNS settings of your domain and activate it in your account.
Please note that if you already have a site at the same address, it will no longer be displayed. A mini-landing page will appear instead of it. In such cases we recommend using subdomain.
Change DNS settings
Go to your domain control panel

Make sure you don't have any other type A records

If you already have an A or AAAA record, delete it

Find the "Add a DNS Record" section

Add a type A record indicatingthe ip address 178.154.195.42
(!) Check that you do NOT have any other type A or AAAA records and specify the correct IP. Otherwise, you will not be able to connect the domain to Bothelp.
The setup process is different for each domain registrar. If you do not know how to add dns records, contact the technical support of your registrar.
(!) After you specified a new IP address, it can take 3 or 24 hours for the changes to take effect.
You need to wait for 3-24 hours and only then proceed to the next step. You can check your ip address at the website whois.
Subdomain
If you connect a subdomain in DNS for the A record, you need to specify the ip for the subdomain.
Add your domain to Bothelp
Only one custom domain can be set for one account. If you connect a domain in your account, then you will not be able to use it for another account. To replace a domain, deactivate it and enter a new one.
Go to the "All Growth Tools" section and click on the "Domain Settings" button.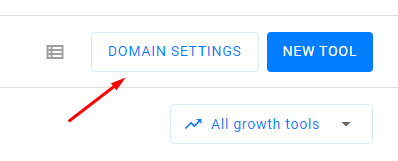 Enter the domain address without the http protocol in the field and click the "Activate domain" button. Activation may take several minutes.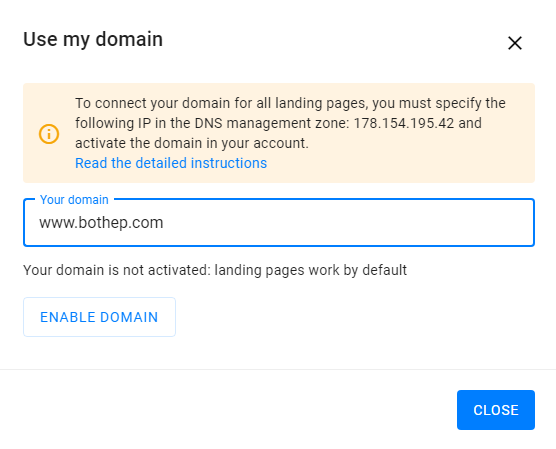 The SSL certificate will connect automatically a few minutes after adding the domain.
Please note that our mini-landing pages do not have a home page, so the site will only be accessible via a direct link to the mini-landing page.
Example: domen.mysite.com - nothing will happen, domen.mysite.com/1 - a mini-landing page will be displayed. The number corresponds to the landing page id in Bothelp.
UTM-tags
To add utm parameters, specify? and add the values with & after the link.
Domain verification for Facebook
You can verify one or more domains on Facebook. To do it:
add your domain to Business Manager

verify it via DNS entry

connect the domain to our platform
For verification, use the Facebook instruction↗
If you have already verified the main domain, you do not need to verify the subdomain again.
---
Do you still have a question? Please, write to us in the chat 😃