The mini-landing page is one of the powerful BotHelp features which allows you to create a simple landing page in just a few clicks and add messengers buttons there.
This tool is perfect for instant promotions, especially if you do not have your own website or a promo page. You can quickly and easy to create a page and share the link with your customers in social media, by e-mail, or via a direct link. Ready?
How to create a mini-landing page
To start go to the 'Growth Tools' section to create a mini landing page and press the button 'New tool'. Choose it to create a new mini landing page.

How to setup a mini-landing page
1. Mini-landing page name
Give a name to your landing page. Only you will see this name.

2. Image
Add an image to the landing page. It will make your mini-landing page more personalized and individualized. We recommend the following image sizes:
1200*300px, up to 100Kb.

3. Video
Add a link to the video. The video should be uploaded on YouTube.

4. Mini-landing heading
Add a heading to your mini-landing page. It will be visible to users in bold font.
The heading is limited by 1000 symbols. We recommend using 3-8 words in your heading.

5. Description
Add your description in 'message text' field. The text is centred by default .
For your description to fit into a mobile screen, make it about 5-10 lines long.

6. Buttons
You can add messengers buttons: one for each connected channel.
If there are no channels connected, you won't be able to add a button.

7. Launch by button
Choose a flow or sequence in the settings to launch your auto funnel by clicking on the button on the mini-landing page. Select a flow or sequence for FB, Telegram, Viber.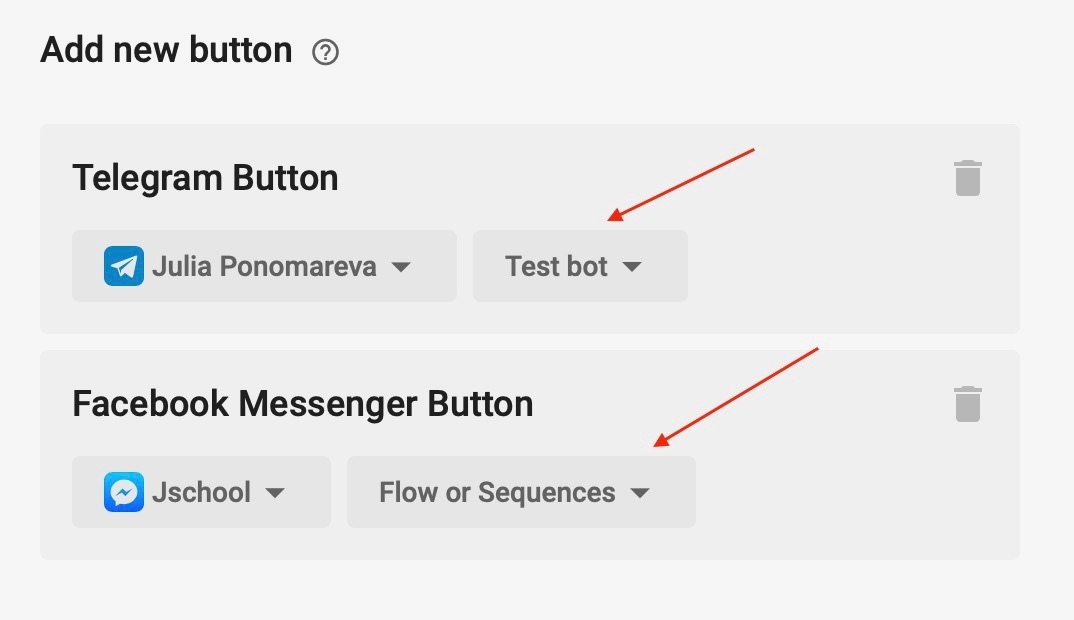 The button refers to the messenger by default. You cannot change it.
Advanced settings
Request an email and phone
You can request a phone number or email before the registration. Without entering the required information, the user will not be able to subscribe.

The entered data is saved in the subscriber's profile. You can export data or send it via webhook to CRM.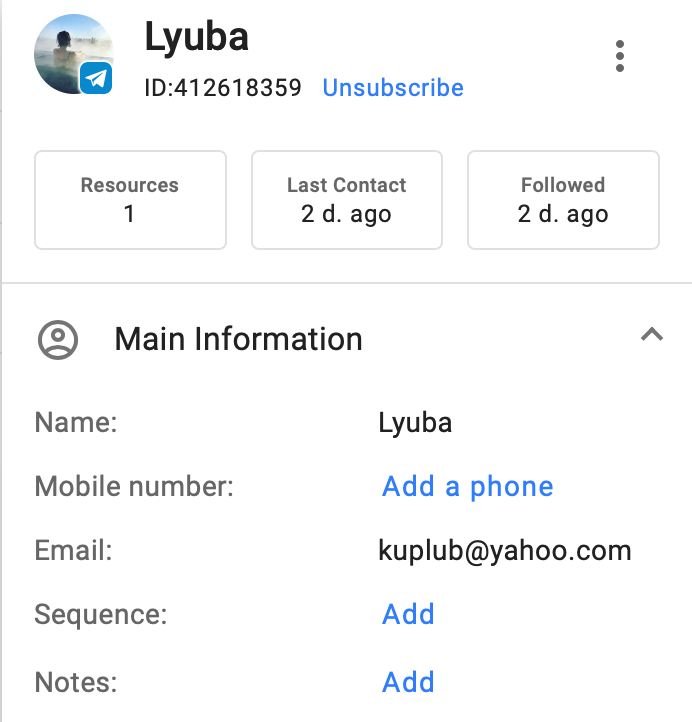 Tags
You can assign a tag to all users who subscribed on the landing page. Subscribers segmentation is done by tags.
Find out more about using tags

UTM-tags
Add UTM tag to your mini-landing page to link and track advertising and sales funnel effectiveness.
Analytics
Connect your mini-landing page to Google analytics or any other analytical system.
Enter your Analytics or Yandex.Metrika counters and set up a goal in the settings.
How to set up goals

Facebook Pixel
Customize your conversion tracking ads or create a separate audience for your Facebook pixel ads.
Your domain
You can add your domain name to show a mini-landing page created on our platform.
Guide: how to set up your own domain.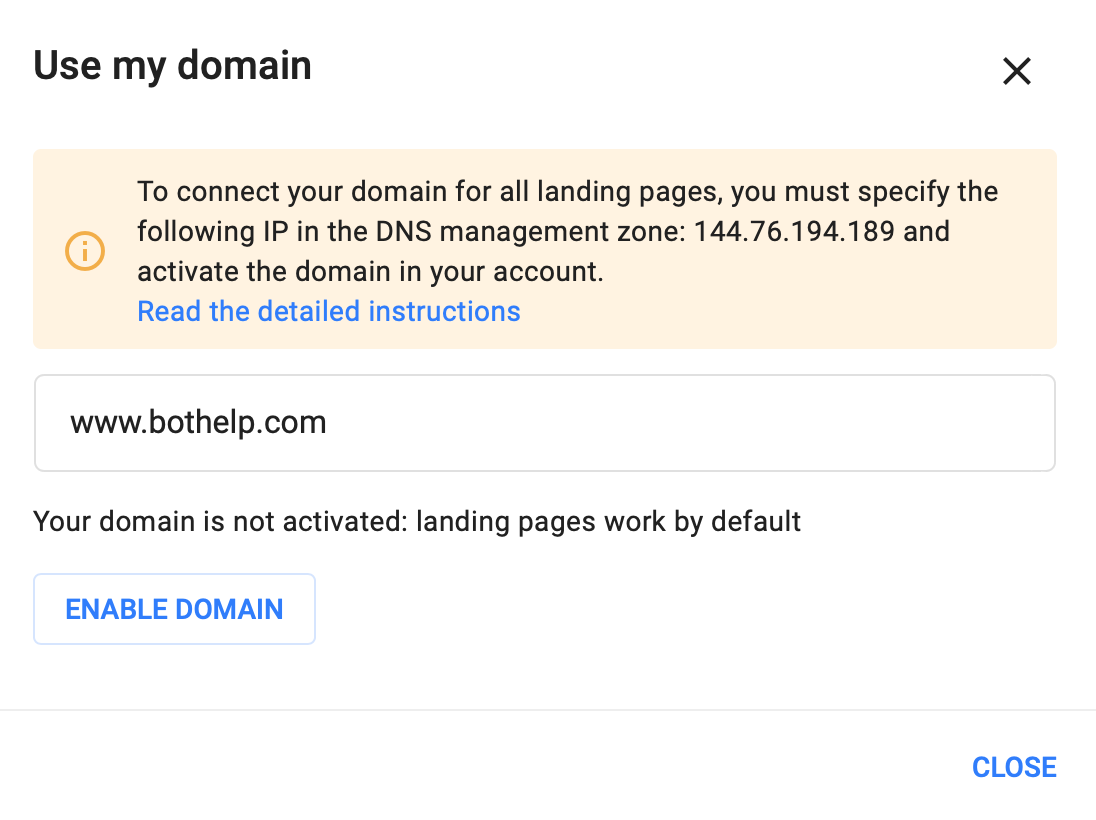 HTML-code
You can 'Insert HTML code' if you want to change your mini-landing page.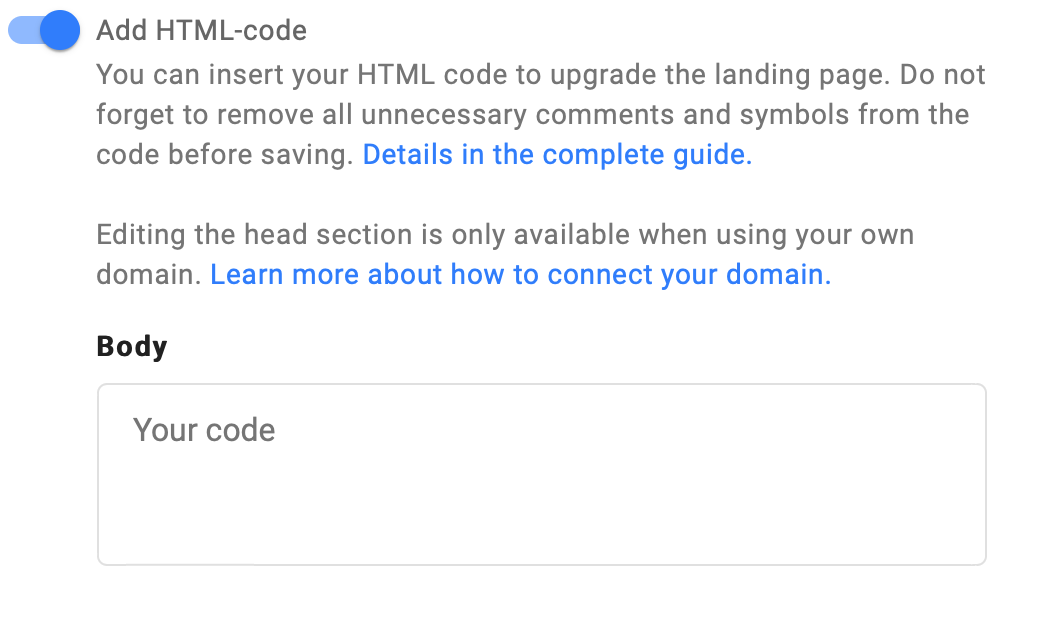 ---
Do you still have a question? Please, write to us in the chat 😃